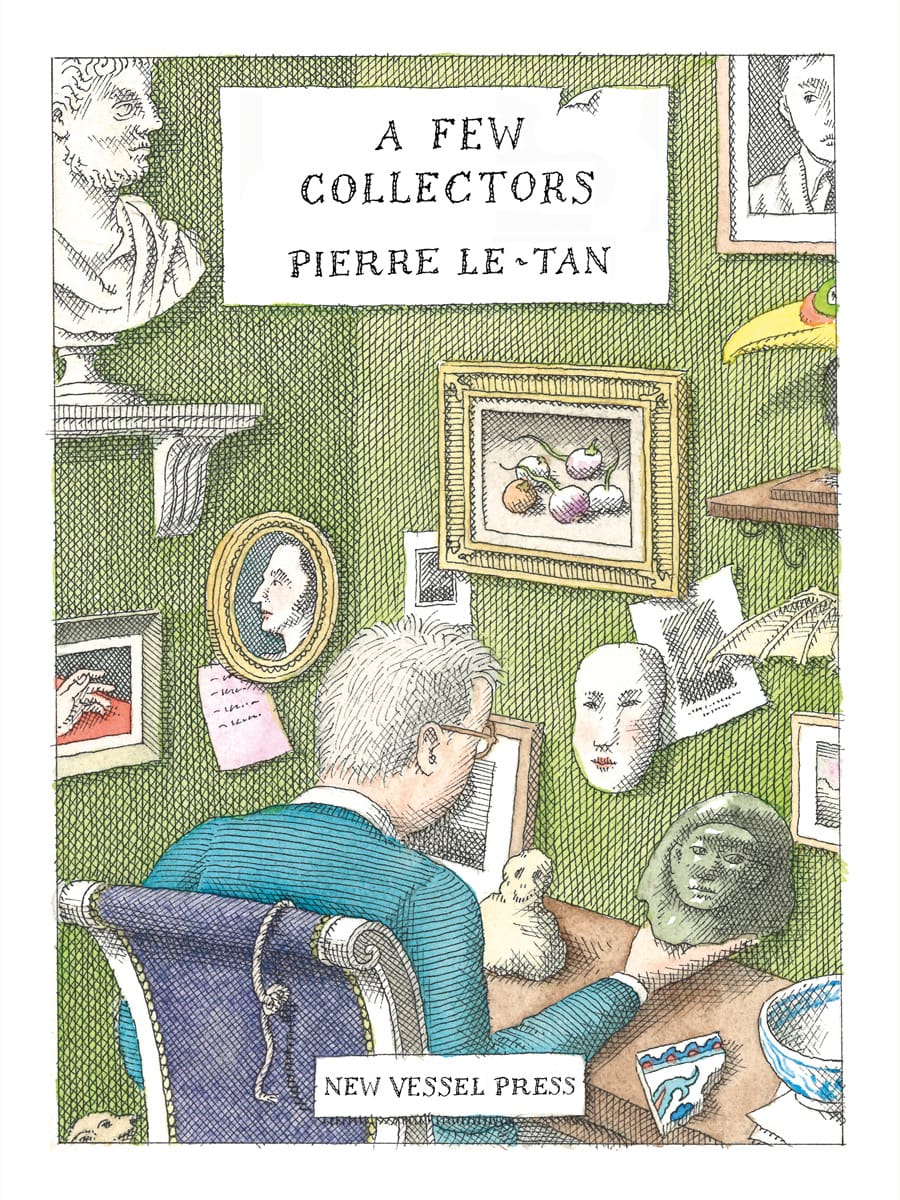 Beloved Parisian artist Pierre Le-Tan, known for designing New Yorker magazine covers and collaborations with fashion houses, summons up memories of inveterate art collectors in this utterly charming illustrated volume. He evokes fascinating, sometimes troubled figures through an array of intriguing and curious tales. With seventy of his distinctive pen and ink drawings—in vibrant color with meticulous cross-hatching—A Few Collectors opens a window onto the vast or minuscule world created by collectors out of a mix of extravagance and obstinacy. It recounts encounters in Paris, the Côte d'Azur, North Africa, London and New York, where Le-Tan's subjects have amassed a range of treasures. Some involve famed figures like former Louvre Museum director Pierre Rosenberg. Others are insolvent aristocrats, princes of film and fashion, expatriate dandies, and flat-out obsessive eccentrics. Le-Tan devotes perhaps his finest chapter to himself.
Excerpt from A Few Collectors
I can't recall what the first thing was that I considered a collector's item. All I can say is that at the age when children love toys, toys interested me only if I found in them a certain beauty. So I can still see the gift presented to me when I, rather late, finally became toilet-trained: a sort of little carriage drawn by a white horse. What I found appealing was its beautiful black lacquer. I had no desire to play with what had already become a piece of my collection, a thing I wanted simply to contemplate.
Very early on, when I was around seven or eight years old, my father would take me to antique shops and even to the flea market. I can still hear the Asian art dealer talking to him: "Tell him to choose a print." He had the same intonation as actors from the time of black-and-white films. I was in heaven. I could list all the shop names that would mean nothing to anyone because they all closed long ago.
My father used to give me secondhand objects: a slightly chipped East India Company cup, a fragment of a Chinese painting, an old volume of the Manga, the encyclopedia of sketches by Hokusai, whom I still consider to be the greatest Japanese artist and some of whose drawings I own today.
In the bedroom that I shared with my brother, I set up a miniature museum where each object was accompanied by a carefully handwritten label. Visitors—from Prince Buu Loc, an old friend of my father, to radiator repairmen—were allowed to write their impressions in a guest book.
Around eleven years of age, I became interested in weapons and armor from Japan. This infatuation stemmed from an old book of my father's that listed extensive details about sabers, breastplates, and helmets. I tried to copy it. From then on, I began compiling a collection whose crowning element was a complete set of armor acquired when I was about fourteen years old.
This incessant desire to accumulate abated a bit at the age when all of a sudden you start thinking of going out at night, preferably accompanied. A few objects then disappeared in order to subsidize other needs. But this was merely an interlude.
My tastes changed as well. Many long stays in London opened up new horizons for me. Through reading Virginia Woolf and other members of what was called the Bloomsbury group, I discovered the painters, Virginia's sister Vanessa Bell, Duncan Grant, and Simon Bussy, an exquisite French artist friend of Matisse married to the sister of Lytton Strachey, an important writer in the group. This then led to learning about other aspects of English painting from this period.
It was also around the time that I encountered the irresistible attractions of Parisian auction house salesrooms. I vaguely recall that the old Hôtel Drouot was under reconstruction. The auctioneers had taken over the former Gare d'Orsay before it became a museum. I realized that, every day, copious amounts of ceaselessly replenished merchandise were put on offer to covetous amateurs and professionals. Later reinstalled on rue Drouot, near where I lived at the time, this place of perdition became for me the equivalent of a casino for a gambler. Along with those in the auction houses in London and New York, the temptations were constant.
---